GIP-9700A speaker system is getting the highest esteem or admiration among GIP products as flagship speaker system.
We adopted expensive Japanese cherry wood to the enclosure and wooden horn.
As results on our reserch, this wooden material showed the most beautiful sound.
2 pieces of 18 inchese woofer [GIP-9461] for bass part is mounted to massive enclosure[GIP-9320].B
GIP-9461 was developed in order to achieve the fastest initial-motion-sensitivity of the sound.
So the sound is very thick but really fast.
In the middle range, [GIP-9101] driver is mounted to [GIP-9712] radial horn.
[GIP-9712] radial horn is cut off frequency 120 Hz.
In the top part, [GIP-9501] tweeter is mounted.
This tweeter is highly acclaimed the most beautiful in the world.
Rear part of this enclosure is installed "acoustic drape",
This will enable the following magnificent and sense of space sound without not obstructing of strength bass sound.
This enclosure is assembly structure by the bolts, and you can adjusting the sound by degree of tightening force for each parts.
Thereby, you will be able to make the sound according to your audio room environment or self favorite.



Specifications
TypeF'Rway'Sspeaker / semi rear-open enclosure

---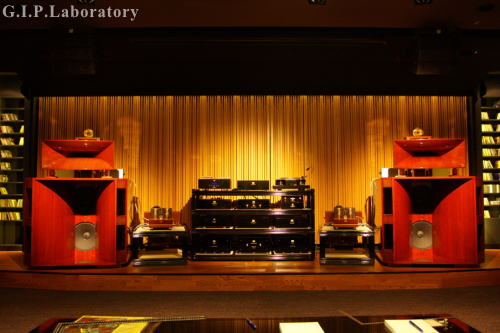 | | | |
| --- | --- | --- |
| iWoofer) | GIP-9461 | ~4 |
| (Driver) | GIP-9101 | ~2 |
| (Tweeter) | GIP-9501 | ~2 |
| (Enclosure) | GIP-9320 | ~2 |
| (Wooden Horn) | GIP-9712 | ~2 |
| (Network) | GIP-9602 | ~2 |
| (Attenuator) | GIP-WAT | ~4 |
| (Field Exciter) | GIP-97EX (24V4A/7V1A) | ~2 |
| (Set up stand) | | ~2 |
---

œCross over frequencyF'R'O'OHzA'R'‹Hz
œImpedanceF'Wƒ¶
œDimentionF W:'P'Q'S'O ~ H:'P'W'O'O ~ D:'P'Q'P'Omm
œGross weight per channelFroughly 'Q'U'O'‹'‡